The new VR for Family game PetDrivr will be available on Oculus Store and Steam soon
PetDrivr will be a new VR game for family, available on Oculus Store and Steam. Here some reasons why you should be looking foward to play it:
(1) It's an easy game to learn, so it's for everyone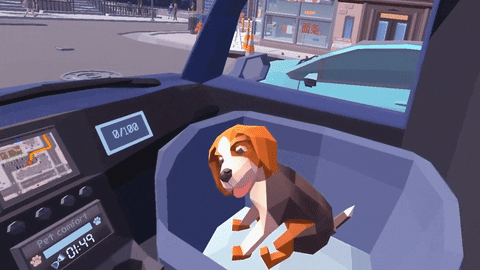 PetDrivr is about riding with your dog buddy. There is no need for a driver's license to go for a ride over the town, just your Oculus. You have the steering wheel to drive the car, a brake and the accelerator buttons. In addition, you interact with the dog co-pilot. If you're too fast, they will complain a little bit. The more snacks you gather, the happier they get. If you pet them, they will love it. The game was fully developed in order to make it easy for everyone to play it. Family, friends and pets are welcome on this funny adventure!
(2) PetDrivr is a safe game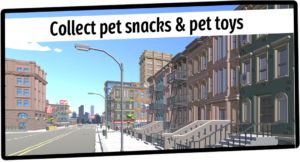 PetDrivr is a safe world for everyone to enjoy. We are living in a pandemic time, so, for most part, it's not possible to always go outside with your loved ones and  pet friends. If you're looking for a full experience outside without leaving your house, the game was made for you. There are no risks and you are completely in charge of the experience as it goes – the only one who might complain is your doggy co-pilot about the car speed, so be aware of it and drive safe! You can also pause at any time you want, so don't worry.
(3) There are no struggles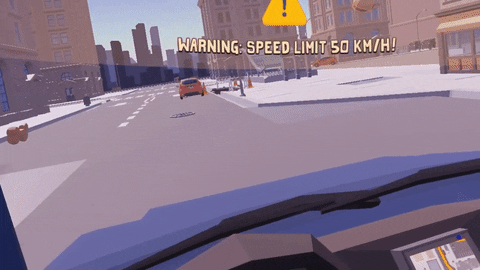 PetDrivr is not about violence. It's about having fun and co-oping with the close ones. All you gotta do is pick up a dog and ride with him over the town. The only thing to worry about is which way to go, so that you can collect more delicious snacks for him. There is also a hidden surprise toy for you to find, but not enemies or any kind of unwanted possibilities.
(4) It's a multiplayer cooperative game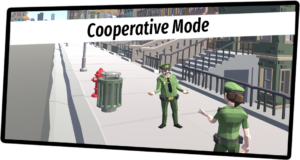 The main purpose on PetDrivr is to share experiences with your family and friends. Working together, both players are going to seek a hidden toy for your dog co-pilot. The toy will be marked on the GPS for you to find it. If you are in co-op mode, then it won't be seen on your Oculus, but only on another screen. In order to reach the toy, you'll need to be guided by the other player. If you reach the next phase, you can switch positions. If you are playing by yourself, the secret toy will be marked on the GPS so you and your dog buddy can find it by driving over the town.
(5) Dogs, lots of dogs!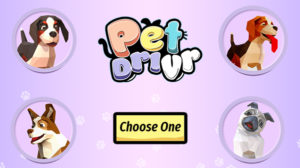 If you love dogs, PetDrivr is such a great game for your virtual reality experience. The first step is to select a dog to join you for the ride. There are different kinds of dogs, so it's fun to meet all of them. Each phase you get to choose which dog will be joining the ride. There is also a full interaction between player and dog though your Oculus. You can pet them any time, and they will feel happy when you collect the snacks on the way. They are also aware if you exceed speed limits. PetDrivr is now on final details of development, and is planned to launch in December. If you want to know more about our work, follow us on
Twitter
and
Instagram
. The game will be available at the main Oculus stores.
Stay tuned!