Main challenges and details left to conclude the best VR for the the family
PetDrivr is already available on
Steam
for you to play it. A casual VR game for family, friends or just yourself – if you want to relax and enjoy a fun and easy gameplay. All you gotta do is to take your pet for a ride over the town. There are lots of possibilities, but no struggles. You could go to the park, the pet shop or visit the vet, it is all about the experience of driving a dog on a city simulator – the PetDrivr Town. But it's not only that. There are collectable items for you to pursue with your new best friend: snacks and hidden toys are all over the map for you to find it and get an extra score. But, how did the backstage work to develop PetDrivr go? Egon and Leandro, the game creators, gave us details about its main challenges.
Before the game was released, lots of additional assets were included. Why did you decide to add more content to it?
PetDrivr's development has started two years ago (2018) with a smaller budget. In 2020, there was a need and willingness to apply some improvements, but we had to back up a little because of the Covid-19 pandemic. In the middle of the year we perceived opportunities to improve its gameplay and finally think about this new release. We developed a simulator game using low poly art, cartoon style, appealing designs of cute dogs. However, its mechanics and gameplay were not aligned: mixing a city game simulator with cartoon design wasn't fitting perfectly. So, we decided to make some technical studies in order to make it more casual. We got inspired by Nintendo games and we mixed it up with virtual reality so that it would be an easy and safe game for everyone to play. In August we started adding these new assets.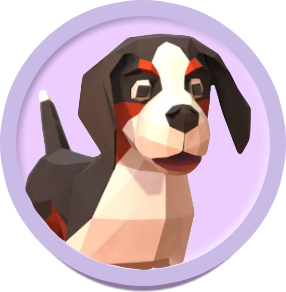 We believed Petdrivr's initial version could be a little too simple, so we added a score system and an item collection to it. Then we included more fun stuff and some competitiveness – snacks and hidden toys to collect over the city and improve the player score. It allows you to leave the path and improve your score by finding more snacks and hidden toys.

Like other party games, Petdrivr's VR has its own system of local gameplay using the VR headset and a Cooperative (or Coach) Mode. The other person can use the other screen to be able to guide the main player. This was our main idea to create a multiplayer mode: the hidden toys appear on the second screen (on PC or TV) and the person wearing VR headset can't see it. Without it, the game could not reach its goals: the second player must encourage the VR headset player to explore and drive over the town so that they can find snacks and hidden toys.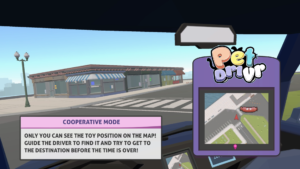 Regarding the town, the gamer has its own simulator gameplay. This is why we felt that creating new areas and expanding its map was necessary. Before the updates the city area was too small and its gameplay too short. With the expansion, everything we wanted to connect (the score and light competition system) made sense. PetDrivr town is now 3x times bigger. It was also possible to create new different landscapes like residential, parks and suburbs to explore. Check the full map: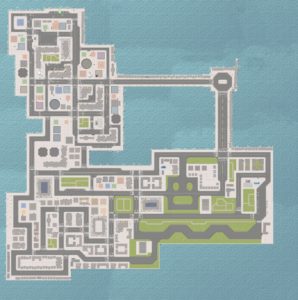 If you want to have fun with a brand new VR for family and lots of dogs, PetDrivr is now available to
download
on Steam. Get yours now!