Target players and issues to overcome 
Petrivr's main purpose is to give a better experience in VR for all kinds of people whatever they age might be. It's the perfect game if you're looking forward to relaxing and having a good time with your Oculus. And of course, if you enjoy driving with your pet (who wouldn't?). This is the second part of our interview with PetDrivr's developers to tell what were their main challenges in order to make sure it's the best experience in VR for the family.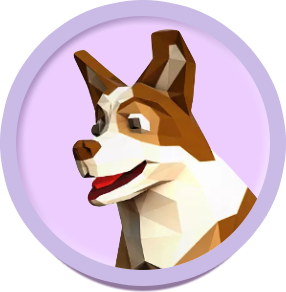 How did you define the target player for Petdrivr?
We believed it was important to consider the VR market industry first to make sure PetDrivr would be different from what already exists. At the beginning of its development, it looked a little like '
Frankenstein'
because it was a simulator game for adults and, on the other hand, it was also a family thing, lowpoly. After some research, we found out there was room for a casual and family kind of game on the VR market, so it was possible to develop PetDrivr for this target audience. If you're developing a VR game like PetDrivr, you expect high fidelity players. And, of course, they are very demanding people, so it's a need to have the best graphics and a highest level of immersion. The VR market also lost a little the casual, family vibe. Even though we're living this moment, we still have casual gamers wanting to have fun with their VR headset, without the compromise of a longplay game. Our audience is not a "hardcore" gaming one. They got VR games to have good experiences between family and friends, so decided to come up with a Co-Op Multiplayer option, what makes PetDrivr also a "party game".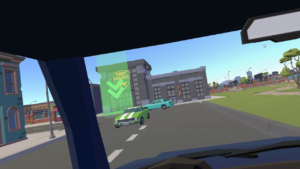 What happened after that?
We were afraid the game could feel too 'cold', because it was a lowpoly city with a cute little dog yet something was missing. What kind of game we wanted to create? A mechanical or a cute, emotional appealing game? That's when we decided to create a different storyline and a name for each dog, in order to give them personality, personal reasons and motivations. Not only that, each one of them would have new petting features, which wouldn't change its gameplay but is enough to give a better experience for PetDrivr's players. It's an interaction feature.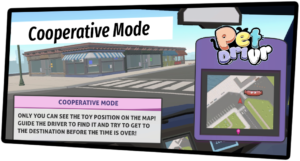 What was the main challenge in the development of the game? What were the most difficult challenges to overcome?
Motion Sickness
: Car games are not that easy to develop on VR. What happens when you play VR is something called Motion Sickness. When you put your VR headset on, your brain believes what you see is real. It's a little trick for the brain, it believes you might be "poisoned", so you might feel a little nauseous. The VR is on the game market for now 5 years, so there are techniques to overcome this issue. We applied some like reducing the car acceleration, for example. Car games with acceleration features might make your body feel dizzy. If it starts already accelerated, then it's not that bad. Our previous experiences also did help a lot to make it a better experience in overcoming motion sickness.
FPS:
We had some performance issues to overcome at the beginning because PetDrivr's town wasn't created for VR games. With polycount, the polygon count is twice the original, what makes it more difficult to render. When it happens, the chance of getting a loss of 60fps to 40fps is big. For VR games, it's usually 90fps. If it goes down, the game aesthetics could be compromised. So, we applied a lot of features so that it could work on VR without bugs or lags. All of its interface on VR has a different technical feature, so we took a curved one to set out the camera whenever you move your face so that it follows you and the experience at the same time. All of it regardless of motion sickness.
GPS:
A third challenge was dealing with GPS features. We needed the GPS to be able to draw the right path, which is a great challenge for an indie game because it demands too much of the total budget in order to ensure a feature that is not the main priority of the game.
What should an indie gamer expect of PetDrivr? What are the expectations regarding this public?
It's the perfect place to relax and play an arcade game casually, no compromise. "I just want to drive over the town with no struggles at all, take a ride with a little dog by my side". The lowpoly aesthetics is also an attractive thing for them.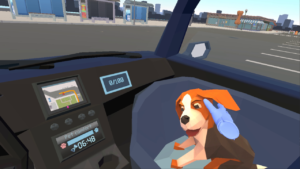 If you want to have fun with a brand new VR for family and lots of dogs, Petdrivr is now available to download on Steam.
Get yours now!